https://s-media-cache-ak0.pinimg.com/originals/12/8e/67/128e67fec9f499e5b4f1c833c41fb281.jpg
In my recent studies I came across a chapter in my text book about Adoption. I am someone who was personally adopted and my parents adopted two other sibling sets so I have not only been adopted but I have seen adoption. I have also seen the other side of adoption. The hard time where the biological or birth mother "may wonder what would be best for herself and for the baby; whom she should tell about her situation and when; and whether she should choose to keep the child and rear it herself, [or] place the child for adoption" (p. 162).
Adoption is probably one of the hardest choices a mother would ever have to make. Pregnancy is not easy, it comes with aches and pains, but it also comes with beauty and grace. When I'm pregnant I know that there will be a beautiful baby for me to cuddle with when it's all over. I can't imagine having to hand that precious baby over at the end of the pregnancy, or carrying the baby the whole time knowing that I would essentially give them to someone else to love. Adoption is such an unselfish decision, full of love and life, that blesses more people than you can imagine; the biological parents, the baby, the adoptive parents, and extended family and friends all around.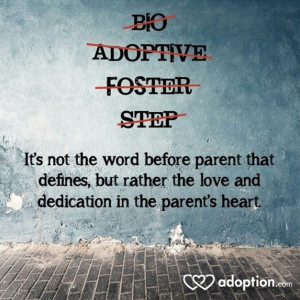 https://images-blogger-opensocial.googleusercontent.com/gadgets/proxy?url=http%3A%2F%2Fcdn.quotesgram.com%2Fsmall%2F86%2F73%2F792553658-foster-care-adoption-quote.jpg&container=blogger&gadget=a&rewriteMime=image%2F*
Here I want to share with you something personal, and I hope my own biological mother will forgive me for exposing her. I was blessed with a biological mother who wanted her baby to be healthy even though she knew that she was giving her away. She abstained from anything that might harm her baby and sought to eat healthy and be healthy.
Now, Arlene and I, although we don't share the same religion, we have the same faith in God. She must have prayed to him to know what to do, because I ended up exactly where I needed to be. Because of her faith and diligence I was given the life I had and I have been blessed with my own family.
Arlene and I are now in contact and we are blessed to share many special occasions together. God has blessed us both, and so many others, because of her loving, selfless decision.
Here's some things that you may not know about teenage birth mothers who choose to place their babies for adoption; they are more likely to graduate from high school, they tend to enjoy better employment income and "many become advocates of adoption" or "help other women through this important decision making process" (p. 164).
Arlene, I am so grateful for you and the sacrifices you made and kept on making for me and for my parents. We will always be grateful for your courage and love. I KNOW it wasn't an easy decision, but you knew it was the right one, and it was. Arlene, you are my angel. You brought me from heaven and delivered me to the angels who would raise me. You are forever in my heart.
Edited: 12/10/2016 - Ideas and quotes were enhanced by the text book Successful Marriages and Families: Proclamation Principles and Research Perspectives. Edited by Alan J. Hawkins, David C. Dollahite, and Thomas W. Draper. I really recommend that everyone purchase and READ this book. It's so great.